Opened:
1995
Capacity: 67,000
Surface: Artificial
Population: 2.5 million
Nearest Airport: 18 miles
On-site parking: 900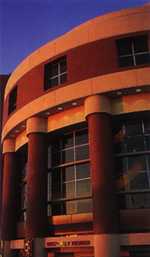 Trans World Dome

The Trans World Dome was designed by Hellmuth, Obata & Kassabaum (HOK), Inc., St. Louis, with the HOK Sports Facilities Group HOK Sport, Kansas City, which has provided design or consulting services for 28 of the 30 NFL teams. As one of the nation's most versatile spectator facilities, the new Trans World Dome was designed to function smoothly and efficiently as both a state-of-the-art stadium and as a standard-setting expansion of the America's Center convention complex. At the same time, the Dome serves to revitalize its surrounding neighborhood on the northeast side of downtown St. Louis, Missouri, through its cohesive definition of a new urban district.

Intimate Seating
As a football stadium, the Trans World Dome features spectator seating for 67,000, with 125 private suites and club seating for 6,300. The stadium also has an enviably intimate seating configuration, providing every seat in the house with an "on top of the action" feel. As an extension of the America's Center, the facility adds 185,000 square feet to the center's exhibition space, along with 47,000 square feet of meeting rooms and support space.

'Magic' Turf
Two unique features have been added to the stadium to assure its complete flexibility. To speed the conversion time from football stadium to convention center, a 'Magic Carpet'? turf system has been used. With this system, forced-air jets in the floor create a 'cushion' that allows the turf to be rolled into place in about an hour. For storage, the turf retracts into a chamber beneath the event floor.